There Are So Many Albuquerque Counseling Services...How Do I Know Where to Start?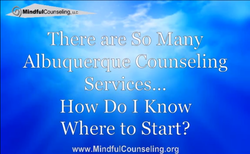 With so many
Albuquerque Counseling
Services to choose from, it can be confusing. Patti Smith with Mindful Counseling gives you some tips on how to get started.
---
What Should I Look For When Choosing An Albuquerque Counselor?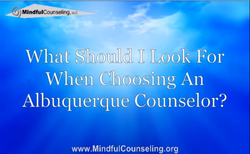 Patti Smith with Mindful Counseling helps you determine what you should look for when choosing an
Albuquerque Counselor.
---
My Partner & I Are Looking For Couples Counseling in Albuquerque. What Should We Expect?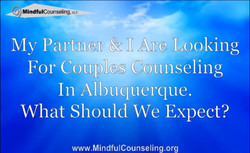 ---
I Want To Start Individual Counseling in Albuquerque but I'm Feeling Anxious. What Will It Be Like?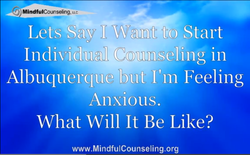 ---
Q - How do I schedule an appointment?
A - Follow the referral process by clicking on STARTING THERAPY and submitting your INTEREST form.

Q - Can I walk in to your office and see a counselor?
A - Neither of our two office locations are set up to receive walks ins. All services are provided during previously scheduled appointments. If you want to schedule an appointment, click on STARTING THERAPY and follow the instructions. If you want more information about our practice, explore our website. If you still have questions, please contact our Office Manager.


Q - Why do I have to submit an INTEREST form?
A - Our administrative team is tasked with making sure a prospective new client's therapeutic need, availability for weekly appointments and preferences of billing, office location, and therapist are available. To complete this task we have developed a streamline referral process where prospective clients can provide the necessary information that is required in order for our staff to connect a prospective new client to a therapist.

Q - Can Mindful Counseling tell me what my insurance will pay?
A- When a client requests that Mindful Counseling bill an insurance policy for counseling services, a two step verification of the policy's mental health, office visit benefits is required. The client completes the first step by contacting their insurance company to verify their policy's mental health, office visit benefits and completing the insurance section of the INTEREST form. Once our office receives a completed INTEREST form, our office manager will complete the second step by contacting the insurance company and verify the policy's mental health, office visit benefits. Once step two is complete, Mindful Counseling can proceed with the referral.

Q - Can I talk with a therapist before sending my INTEREST form, just to see if they meet my needs?

A - Mindful Counseling's therapists do not offer initial phone consultations with potential new clients. If you have questions or concerns regarding determining if a therapist would be a right fit for you, you can review our therapist bios posted in the ABOUT OUR THERAPISTS section. If you have additional questions you can contact our Office Manager at: phone 505-899-9329 or email mindfulcounselingllc@gmail.com.

Q - What age of clients do Mindful Counseling accept?
A - Mindful Counseling accepts ages 13+. Any potential client, including adolescents, must be willing to participate in the therapeutic process. For ages 12 and younger we recommend you search for a child or play therapist.

​Q - What is the age for consent for mental health treatment in New Mexico?
A - 14+ years old.

​Q - Why doesn't Mindful Counseling accept court ordered, probationary required, or clients currently involved with litigation?
A - We specialize in the regular and ongoing process of counseling not related to legal proceedings or required by a court of law or probationary program. Our clinical director recommends another mental health agency that provides court ordered or probationary required mental health services. If you are currently involved in litigation, we recommend you search for forensic therapist.

​Q - Why doesn't Mindful Counseling accept 3rd Party Referrals?
​A - A 3rd Party Referral is when Mindful Counseling is contacted by an individual or company seeking services for someone other than themselves. We value interacting with potential new clients directly, at the time of referral. By directly interacting with a prospective new client, we can quality assure that our therapist's specialties will meet the client's need. Our research also shows that when the client is involved in the referral process, attendance issues, which can prevent the therapy from being effective, are minimizes. We can certainly answer any questions a concerned friend, family member, medical office or insurance company may have regarding
connecting their loved one, or client, with services.

​Q - Why doesn't Mindful Counseling accept or bill Medicare?
​A - Most of our therapists hold licensures are not approved for payment by Medicare. Numerous unsuccessful efforts have been made by mental health associations to petition the government to change this regulation.

Q - How long are therapy sessions?
A - Sessions typically last 45 - 50 minutes.

Q - Does Mindful Counseling offer a wait list?
A - Mindful Counseling does not currently offer and maintain a wait list for those seeking our services. Our practice has limited resources and as an alternative to a managing a wait list, we post our available appointments at the bottom of our website's home page and encourage all those seeking services to visit our site regularly so they are aware of openings as they become available.

Q - Does Mindful Counseling have a Psychiatrist on staff who can prescribe medication?
A - Mindful Counseling specializes in talk therapy and does not prescribe medication or offer medication management services.

Q - Does Mindful Counseling provide Psychological Evaluations or one time assessments?
A - Mindful Counseling specializes in regular, on going counseling and does not offer one time evaluations or Psychological Evals.

Q - Once I start seeing my therapists, can I bring my partner in for couples counseling too?
A - You wouldn't your partner to feel as if your therapist is predisposed to your side. And we don't want that either. If you and your partner are wanting couples counseling in addition to your individual work, or vise versa, we recommend you contact our office. Our staff can look at your options and try to connect you with an additional therapists for the additional services.